Do you ever want to have more than just plain polish on your nails but don't know where to start? Whether you are a novice or an advanced painter, this article is here to help you add the 'wow' to your nails. Also keep on reading "How to design with nail art tools and brushes" to know about painting with nail art tools, such as dotting tools, nail art brushes and Adoree nail art.
break
Easy Ways to Create Nail Polish Designs
First you need to know about nail art accessories, such as nail rhinestones, flat shapes, nail pearls, etc. I purposely put this in the first part of this article because using nail art accessories is the easiest way to decorate your nails. It doesn't need the control of hand to paint and a lot of nail art tools.
Nail Rhinestones, Pearls and Flat Shapes
Adding these nail gem stones will give an instant glamour to any nails, whether adding just one stone or designing the gem stones in a certain design (for example, arranging teardrops to make a flower or round stones for a big heart). So if you like me, who have a poor hand control, this is definetely the way to start. In my experience, rhinestone is the easiest to apply because it's tiny so it stick better to my nail. On the other hand flat shape is a bit trickier to use because it's wider so it doesn't really follow the curve of the nail bed. But it's worth to try.
How to apply nail rhinestones or beads: Apply a layer of top coat or a small dot of nail art bonder on a dry nail. Pick up the jewel with a Rhinestone Pickerr Uperr or a dampened wood stick and place it on the area you like. Hold stone for a few seconds. Apply one or more layers of top coat and allow to dry.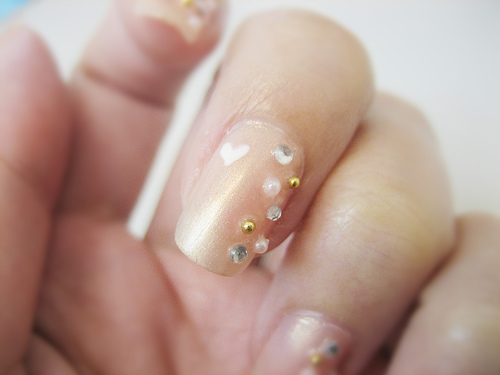 Nail art design with nail rhinestones and pearls
---
Rhinestones Organizer
If you have (plan to have) lots of gem stone in any shape and color for your nail art. Having a rhinestone wheel or a rhinestone organizer is a great solution to keep your stone organized. It will save you time and energy for searching and searching on certain item/color.
Rhinestone wheel costs less and works nicely. The only drawback is that if the wheel is loose the stone can get mixed up. But the rhinestone organizer is pretty tight with separate compartments. Plus it comes with a place to put your rhinestone picker.
---
Nail Glitter
You can use nail polishes that contain glitter in them or loose nail glitter. To use loose glitter, apply nail art bonder or top coat to the desired area. Apply the glitter with your fingertip or you may sprinkle it on a larger area. Loose glitter usually doesn't need a top coat on top. Finally clean your fingers with the glitter brush.
Read more about how to use nail polish glitters to create beautiful nail polish designs at Sheer Glitter Toppers"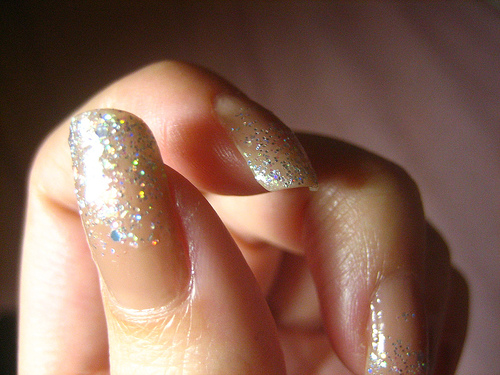 Nail art design with nail glitter
Nail Stickers
There are many kinds of nail stickers, each with different designs. Just in our store, there are 63 unique nail stickers from 2D, 3D to 14K Nail Art Decals. All are gorgeous and pretty easy to use. Just detach, stick to your nails and layer with top coat on top. Or, you can put it onto wet nail polish or top coat.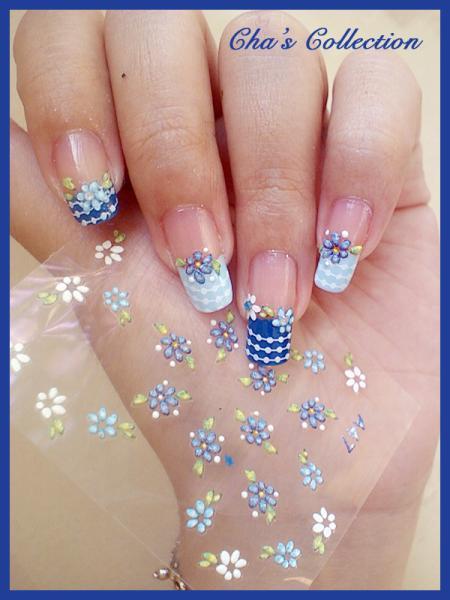 Courtesy Paus-Imut Kaskus.us Nail Art Lover Forum
In this nail art design, 3D Nail Sticker Flower and 3D Nail Sticker Lace Dots are combined to create marvelous flower design on top of french manicure.
For more simple and advanced design ideas, please visit http://gallery.esthersnc.com. And if you have painted yours, please send us your photos. We'll publish them on the gallery, to be an inspiration to other people.
Related Item

Toerrific

in the

nail art book

section.

 

Toerrific: A Guide to Beautiful Feet

For some of us, finding the idea is the hardest part. Therefore, we recommend this book. Toe-rrific is a great, fun book about toenail design fashion and simple foot care. Whether you are a beginner or an advanced nail art lover, this book is the one you don't want to miss. It includes:

over

200 unique designs

grouped by colors and themes
creative looks for

year round holidays

and

travel

chapters about

sparkly gem

s and

unique toe rings

easy

step-by-step pedicure advice

and

foot care tips
Next is our NEWSLETTER...
if you like this article, consider to sign up for our newsletter. It's a brief, monthly newsletter, filled with nail care, nail art, and other nail-related articles and new items information and special offers. Perfect for nail art lover like you.