One of the ways to "stay cool" during summer months is to wear cool flip-flops. This year flip-flops fashion is full of color and shine, so why should your toes be different. Pick a few bright polish colors to match your favorite flip-flops and add some rhinestones to the mix. Shining in the bright summer sun they will transform the simplest nail designs into a sparkly piece of art work.
break
Purple French Manicure
What you'll need:
Step by step instruction:
1. Some kinds of bright nail polish can easily discolor the surface of the nails. Apply a clear base coat, and then a coat or two of purple nail polish.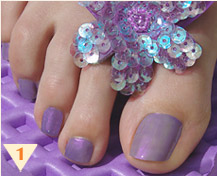 2. Paint a modern angled French tip with white nail polish. Don't worry if the line is not straight - you can always fix it with the background color.
3. On your big toe apply a row of light blue gems on the edge between two colors. On the smaller toes place one rhinestone in the corner of the nail.
---
Checkers Rhinestones
What you'll need:
1.After a clear base coat paint your toes bright orange. For better coverage and smoother surface apply a few thin coats rather that one thick gooey coat.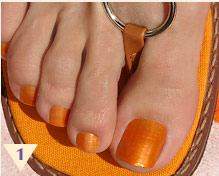 2.Hold brush vertical to the nail and add a stripe down the middle of each nail. Vertical stripes look flattering on wide nails making them appear skinnier.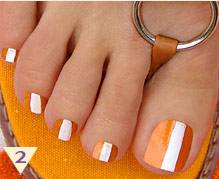 3. With square rhinestones in two colors create a checkers pattern over the white stripe. Geometrical patterns always add a modern touch to the designs.
Applying gems is not as difficult as you might think. If the base coat is already dry, use clear polish as a bonder. To secure the position of the stones apply a clear topcoat over the nail and reapply it after a few days. You will be surprised how long your designs last.
Source from Toerrific.com. Get beautiful and healthy feet with Toerrific nail art books.
---
Related Nail Art Items
Toerrific Nail Art Book - Besides Pedicure advice and tips Toe-rrific book includes nineteen design sections with a total of 200 toenail styles for any color or occasion: prom, beach getaway, night on the town and many more.
Polish Corrector Pen - No-mess application nail polish corrector pen. A perfect tool to tidy up a polished nail.
Rhinestones Pickerr Uperr - Picking nail rhinestones is easier with this rhinestones picker. Just touch and place.