Posted by Thresa Sulistio on 12th Mar 2020
Ever since CND released its Power Polish in 2010, the Shellac as we know it, has experienced facelifts many times. This year marks the 10th anniversary for CND Shellac. In this post, I would like to walk down the memory lane of CND Shellac to show you its evolution.
Some people think that the CND Shellac they have is counterfeit or fake because it looks different than what they see in their salon or local store. So my purpose is to inform you how Shellac has changed its appearance from almost the beginning until now.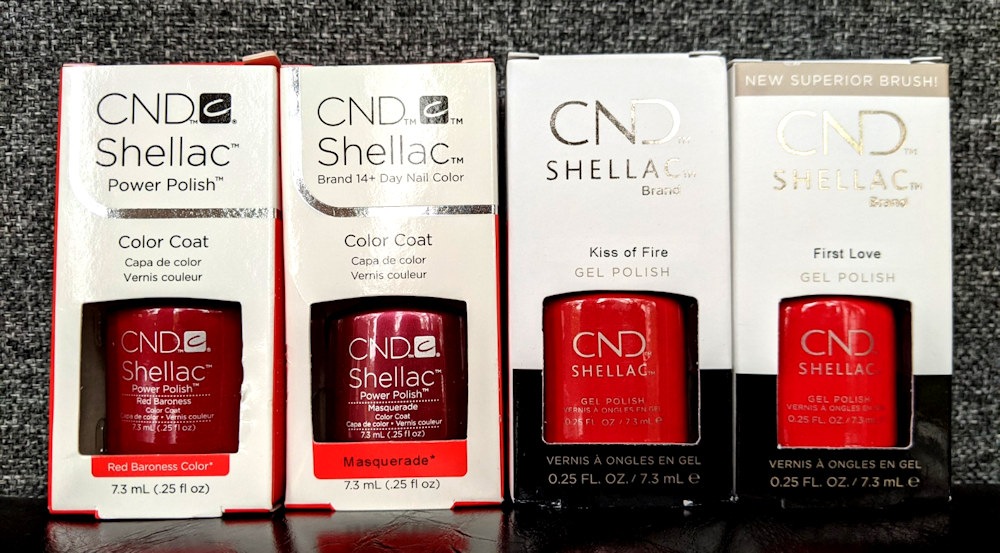 From the left to the right: the early version to the latest one with the new brush.
1.The Genesis
Following the success of Gelish by nail harmony, CND released its hybrid gel polish called CND Shellac. Encapsulated in an elegant, clear acrylic case, it hit the shelves in early 2010. Soon, it became very successful as many people found it easy to apply and stayed long on the nails. It was so popular that it was constantly sold out almost everywhere.
Since then, CND has changed its packaging including switching to using card boxes instead of acrylic cases. We don't have the very early version now. The earliest one we have is shown in the photos below. You may still find a few floating around as CND or the distributor is clearing out the inventory.
Now, what we truly love about CND Shellac is its long-lasting shelf life. It doesn't matter how old your Shellac is, it's still good! Just make sure you shake it well, it will apply nicely.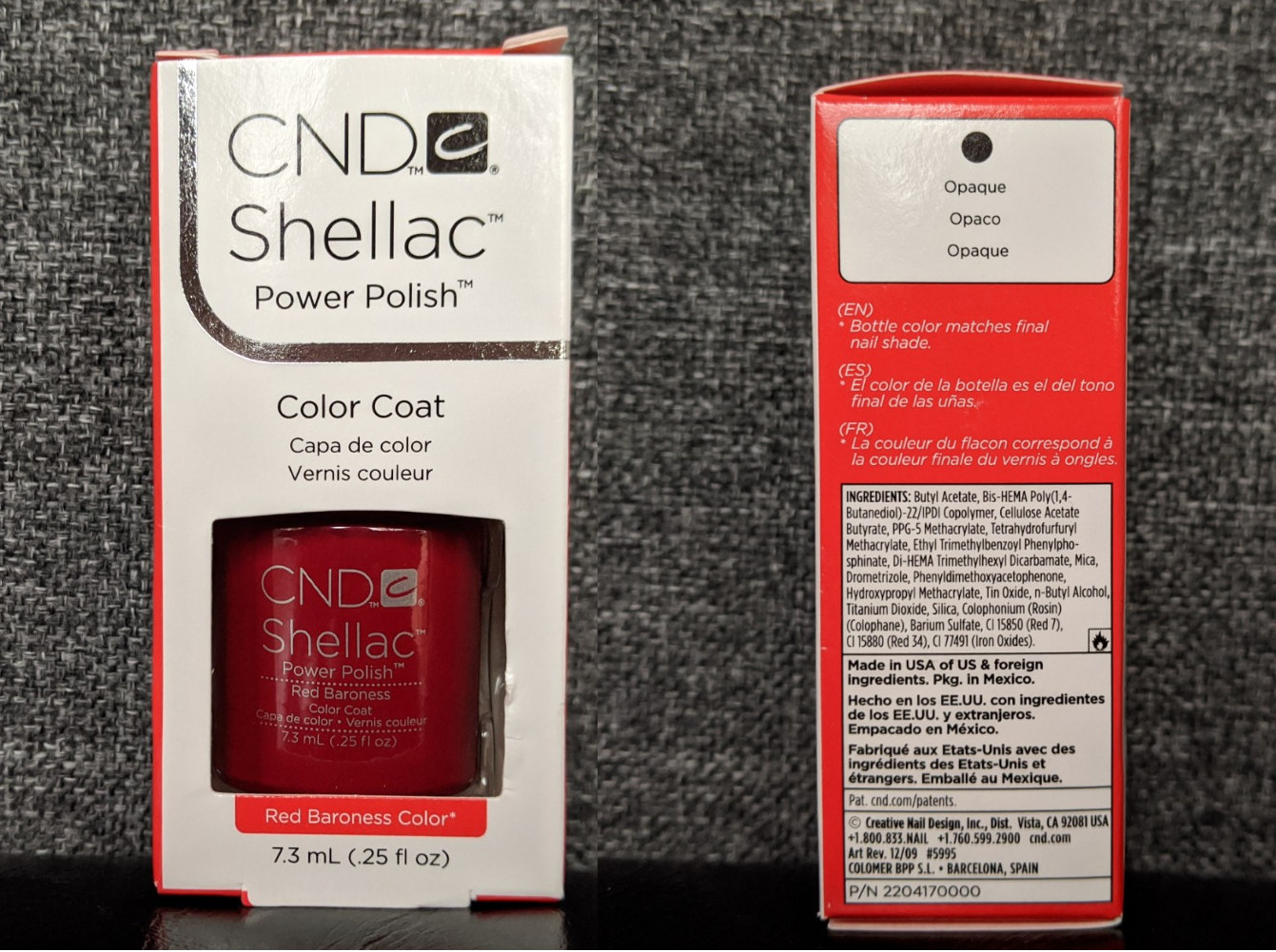 2. Second Coming
Then the next change is shown in the photo below. (It's not truly the second coming :-)). The name of the color is shown on the front side of the box. The logo is still the old one. This is still the majority version we have.
3. Logo Change
In 2018, CND changed its logo and packaging one more time to show a clearer design and description. But no changes with the formula. The box is white and black. And now it's described as gel polish.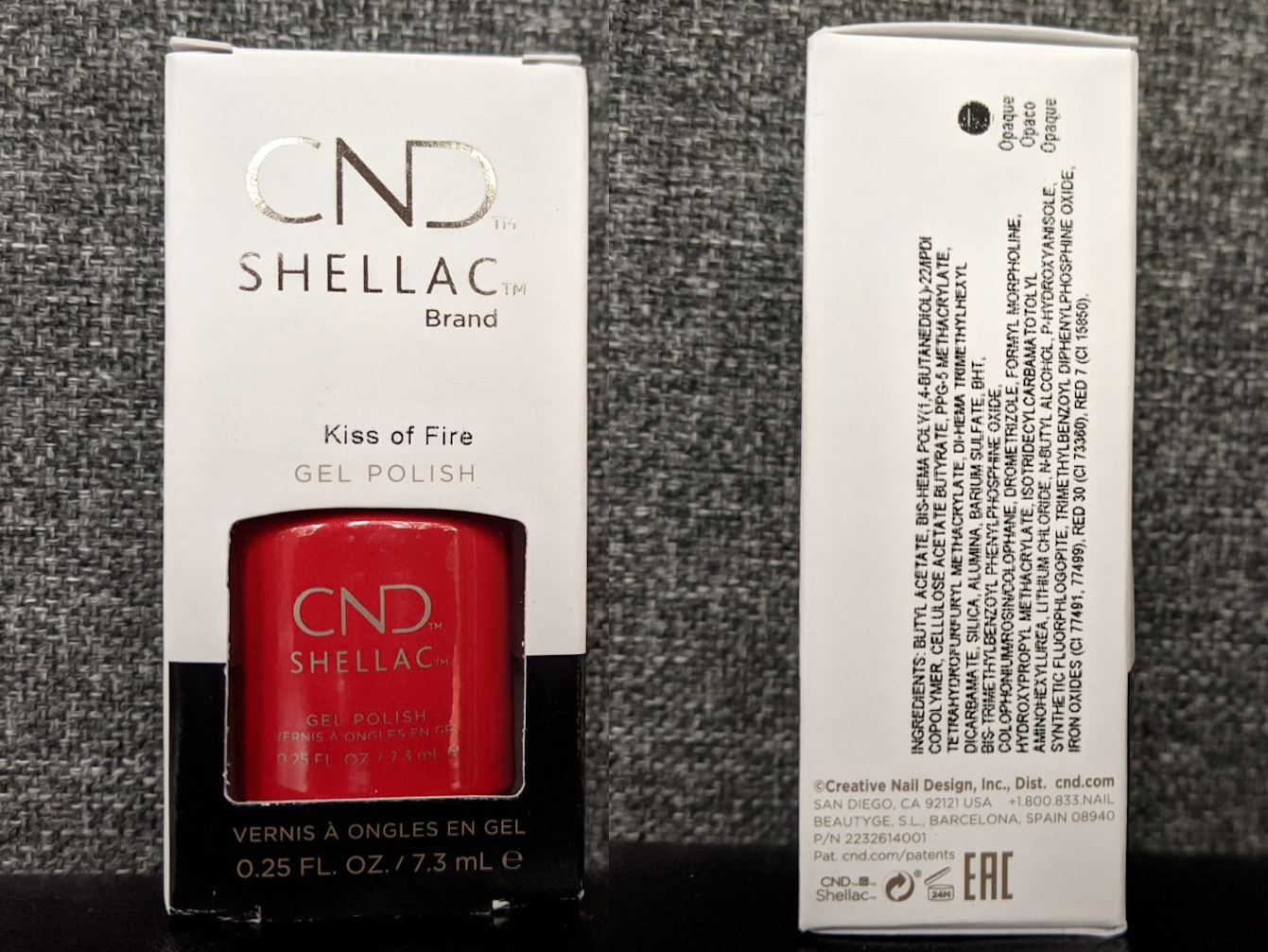 4. Superior Brush
And lastly, the newest packaging now show that the Shellac comes with a superior brush. Still white and black box.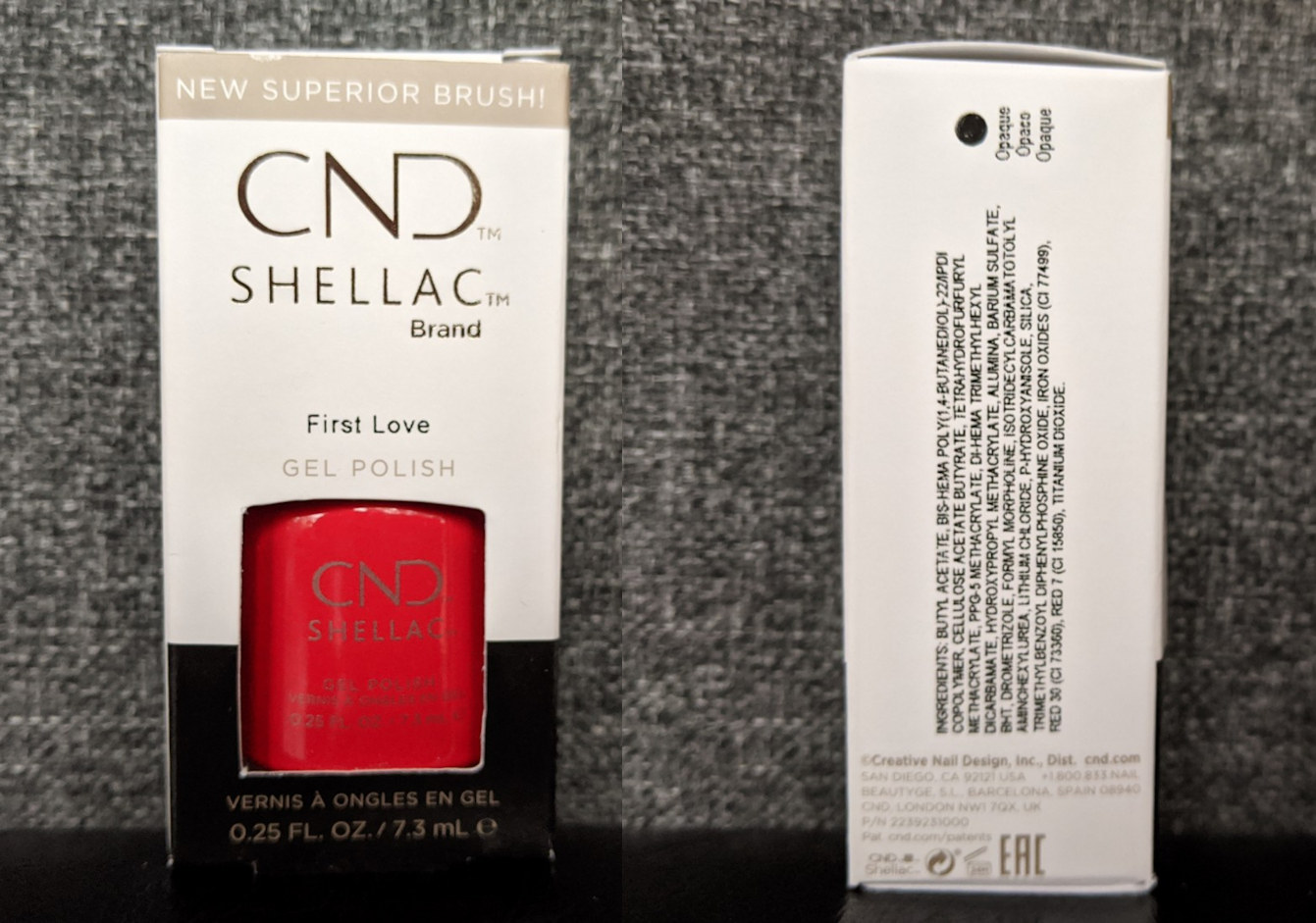 Esther's Nail Center only sells 100% genuine CND Shellac. We've been selling them since 2010. It's constantly our top selling products. With that being said, I'd like to share some tips on how to recognize if your Shellac is genuine (we never encounter the fake ones and not sure how it looks like):
- On the bottom of every bottle, there's a batch code. This number should be different in each shade or product. The same batch number for the same color should be expected. Same colors with different batch numbers is fine. But the same batch numbers or UPC numbers for different shades or products is a a red alert.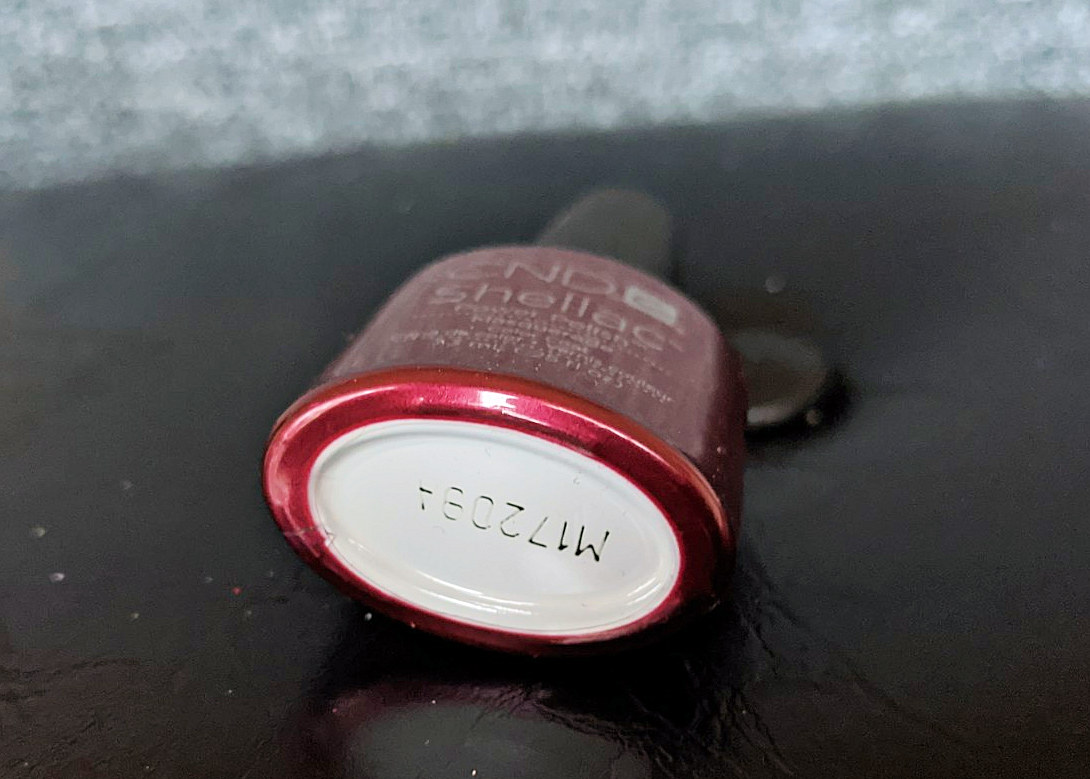 - Most Shellac, especially the older ones, has a plastic-wrapped bottle until a few years ago. From 2017 many CND Shellac has colored bottle glass instead. But both bottle styles are still in circulation as they're clearing out their inventory.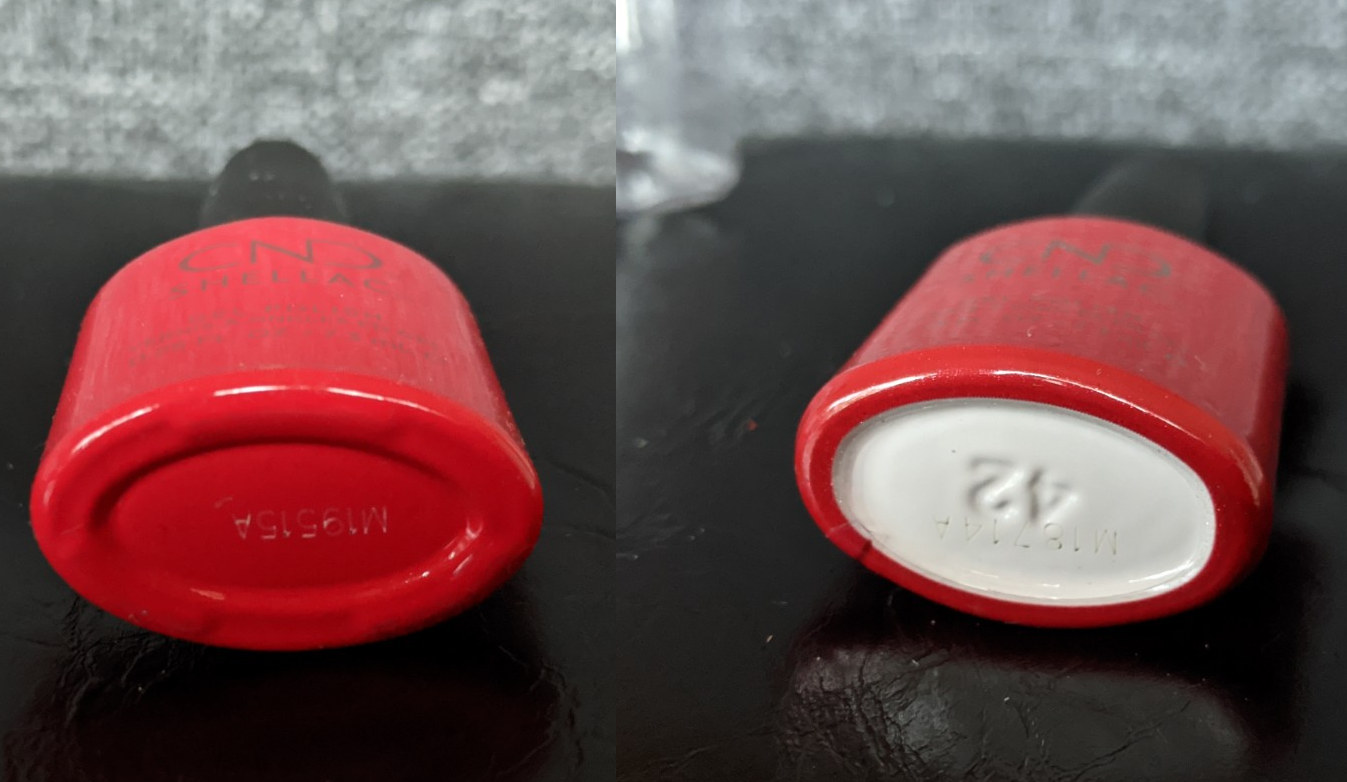 Left side: the newer bottle with colored bottle. Right: the older version plastic-wrapped bottle.
- Sometimes you find the name on the bottle describes it as Gel Polish, sometimes it's Power Polish, or Color Coat. These are the same things that describe the same formula of CND Shellac gel polish.
Well, I hope this is helpful so you know a little history of CND Shellac and how to find out if your Shellac is genuine.